Houghton Hall: Portrait of An English Country House
Exhibition Design
Museum of Fine Arts, Houston

The MFAH hosted a national tour of a renowned collection of paintings, sculptures, and decorative arts from Houghton Hall, an English Country House in Norfolk, England. Houghton Hall: Portrait of an English Country House hosted nearly 200 objects including family portraits by William Hogarth and John Singer Sargent. The challenge was to recreate Houghton Hall with objects and large-scale graphics reflecting different rooms of the estate. Graphics also had to be proportional to the objects and very high quality. Worked on the production and output of the large-scale photo mural graphics as well as extensive Photoshop work that had to appear seamless. One in particular recreated the size of a bookcase to fit one of the exhibition room locations while keeping everything proportional to the objects that would sit in front of it. A gratifying project that garnered a wonderful response from visitors to this show.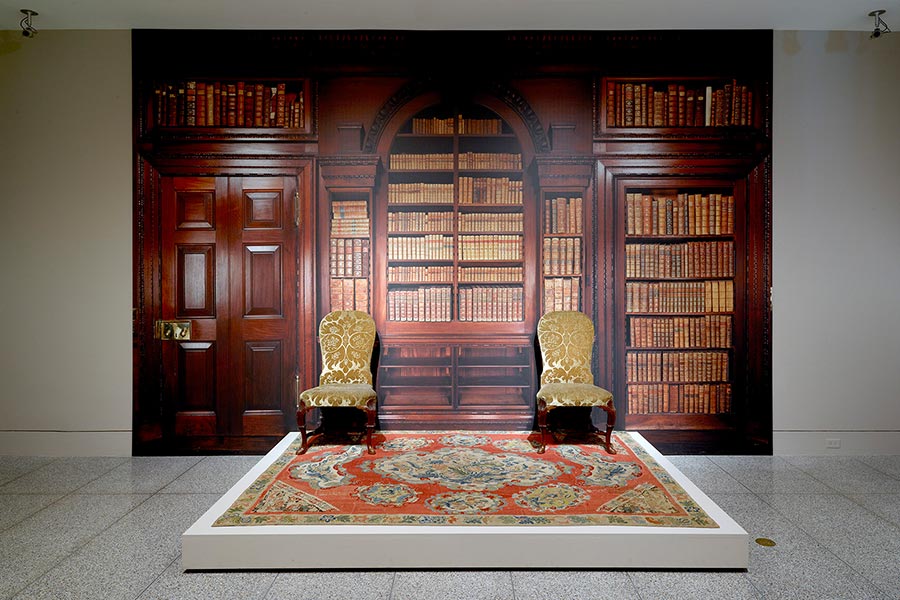 This decorative bookcase from the Houghton Hall house museum in the UK had to be recreated as a large scale
wall installation at the Museum of Fine Arts, Houston. These photos show the before and after of the original
space and what I had to reconstruct in Photoshop to fit the exhibition space in Houston.
Houghton Hall: Portrait of an English Country House from Museum of Fine Arts, Houston on Vimeo.